Amy Kim Kibushi and Kazuhiro "Kazu" Kibuishi, two published graphic novelists, visited the seniors who had completed making their own graphic novels in their Dual Credit English class. In addition to covering some of their creative choices, the authors shared their complicated journeys through the publication process.
"It's so painful to put your heart and soul into something and not get any equity from it," Amy Kim said. "When you approach publishers, make sure you get an agent first." 
Amy Kim also retold her problems she had trying to publish her first book. In her attempts to get her book published, she accepted a deal without royalties with Toykyopop. She was published now but wasn't getting paid for her sales. 
Amy Kim gave her own insight on paying bills as an author, and how getting deals with publishers can be life-changing.  
Partnering with Scholastic, she published The Rema Chronicles, which became an instant bestseller, leading to more recognition and financial support. 
"I'm so glad I never stopped working on it because I was told quite often to stop working on it," Amy Kim said. 
Getting your work published is a slow process, and that was something both Amy Kim and Kazu had to adjust to.
"We both used to draw webcomics, and with webcomics, you get instant gratification," Kazu said. "Over time, it kind of helps you as a creator, especially when people give you bad reviews, which happens."
Authors hoping to be published have to face criticisms from professionals and readers alike and have to face realities most shy away from.
"To do this for a living, it's a long path, a lifetime pursuit," Kazu said. "Some of your books will be good and well received, some will not be, but the important thing is that you don't stop." 
For Amy Kim, she knew she needed to focus on her writing. She stopped drawing for seven years and put her efforts into building her narratives. 
"My stories weren't fully baked," Amy Kim said. "There were a lot of concepts and ideas, but no flow."
Yet, for Kazu, he chose to focus on his coloring after school to improve his art. His experience drawing for a student paper at the University of California at Santa Barbara was solely in black and white. 
"I decided that all I'm going to do is color," Kazu said. "Basic, simple shapes, and I'll play with color to create light, motion, and space. It was a great way to dial in on basic color work."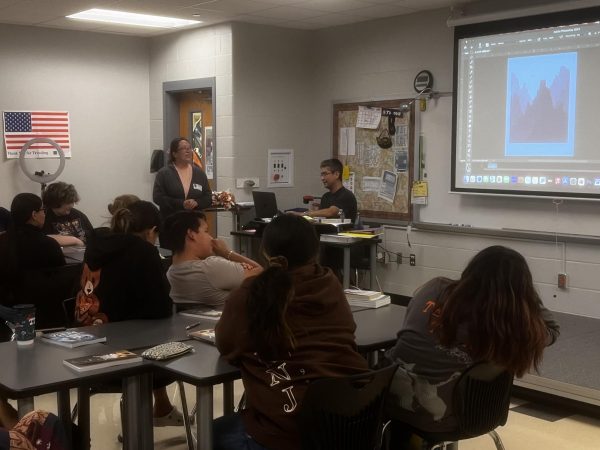 With their experience, they provided aspiring student publishers with their own advice they've gathered from years of in-the-field work.
"Think about what makes you comfortable when drawing," Kazu said. "Just try to find ways to be kind of like a marathon runner with this stuff."
__________________________________
To access their content, click on the Goodreads links below.