The Spanish club came together to celebrate Día de Los Muertos with a shared meal, on Friday, Nov. 3. Led by Spanish teacher Mrs. Cruz-Torres, Spanish Club members were given the opportunity to celebrate Mexican culture during Club Time with snacks and a movie. Día de Los Muertos is celebrated from Nov. 1 to Nov. 2 and is a time when families honor deceased loved ones.
    In regards to the celebration and recognition on campus, sophomore Marisol Aguilar said that she felt it was good to see her culture represented and celebrated at school. 
   "It's really a special day where you can remember and feel your loved ones who aren't here anymore," she said.
  An ofrenda is an offering typically organized on an altar meant to welcome the spirits of loved ones back to the land of the living. Many families place pictures on an ofrenda to honor those who have passed.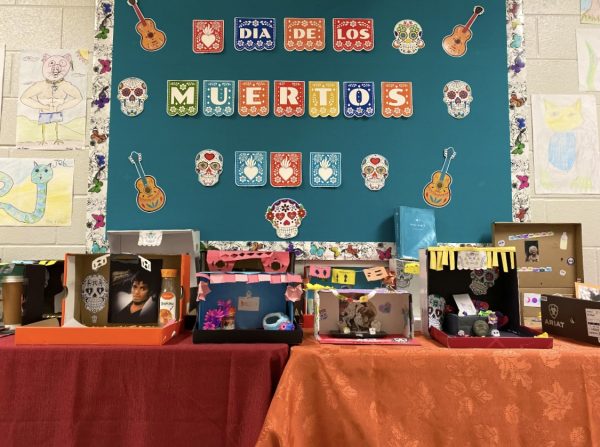 "We believe that it allows them to come over and visit us," Sanchez said. "We'll put out their favorite foods just to let them know that we acknowledge them." 
   Members explained their own ways of celebrating, all emphasizing the importance of honoring loved ones. 
   "Me and my family make an altar," Senior Andi Jaramillo-Galicia said. "We pray the rosary and sit around the altar, we just talk and have fun."
   Senior Sherlyn Gutierez and junior Azul Holguin shared that they don't always have time to set up an elaborate ofrenda. 
   "We put the candles and flowers next to a photo of [a loved one]," Gutierez said.
   The ofrenda's significance is not measured through its size, but rather by the intent behind it.
   "It doesn't have to be big," Holguin said. "It's the thought that counts, it's just important that you celebrate them."