Falcons inducted into NHS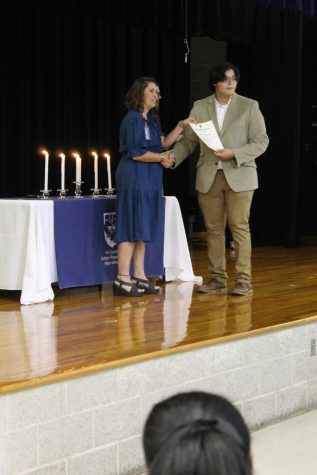 HCCPHS' first National Honor Society kicked off in late September. NHS is a chosen group of students that have been recognized for their hard work and unique abilities.
    There is a rigorous process to join. Students must fill out an application form that states what community service they have done and accomplished within the school. The induction ceremony occurred on Sept 29 where 23 junior students were inducted. 
   "I feel very proud as a Latina about being the first person in my family who is in an honors program," junior Andrea Jaramillo said. 
   The ceremony started with Mrs. Fey giving a speech on the values of NHS, followed by multiple teachers, including Mr. Solano, Mr. Kelley, Mr. Varvel, Mr. Horton, and Mrs. Wiley lighting the candles, which are representative of the values of NHS: Service, Scholarship, Leadership, and Character. The students then walked onto the cafeteria stage to receive their NHS certificates, and afterward, all the inductees grabbed a candle and lit it. Mrs. Fey, the NHS sponsor, explained that the candles represent torches, and how the light illuminates truth and the qualities that they want the NHS members to emulate.
   "I'm very content with being inducted into the National Honor Society because it'll help me in my future career," junior Levi Tapia said.