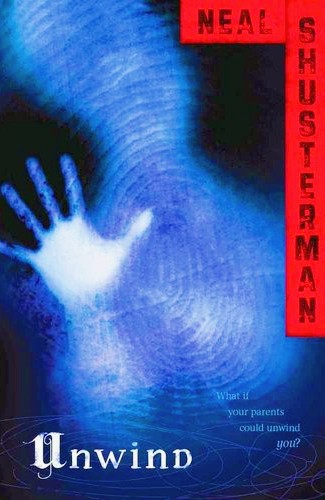 If war is fought over something terrible and both sides can't agree, what's going to cure it? What if that "cure" leads to fixing laws that really lead to a terrible dystopia worse than the world that came before it? Neal Shusterman's "Unwind" guides these questions through its protagonists and antagonists."Unwind" is set after 2007 in the United States after the Heartland War, a world war over changes to abortion laws. When the war finally settled, an alternative form of abortion was finally set in motion: "Unwinding" was born and its creation changed the world forever. 
The new laws mandate that abortion is illegal and the only way to get rid of any problematic or unwanted children is to sign the Unwind papers. Unwind papers are signed for the child at a young age so that they are taken off the parents hands at the age of thirteen, and are classified as "Unwinds." The unwinding process is a very inhumane and terrible procedure when it finally happens. Think of a human being entirely built by "God" as a Lego set and every piece counts. Now think of a group of surgeons deconstructing that human until they become nothing but a bunch of organized pieces, ready to join other fellow human Lego sets.
The reason why this is considered more humane and morally ethical is because every piece of an Unwind is used in modern surgery to replace any injured or lacking body part to more fortunate people until the whole Unwind is used. This dystopian world is brainwashed into believing that Unwinding doesn't kill anybody if it occurs and that it really is humane.                  
Though this is a great medical advancement and stops abortion, the mere idea of being Unwound scares almost all children into thinking they could be unwanted by their parents. But, Unwinding is also followed religiously and some religious families "tithe" their fourth child since large corporations have brainwashed religions in the "Unwind" universe into thinking giving up your children shows devotion to "God", as if they think he would ever want this. 
The story expands into a tetralogy, but the first book "Unwind" follows three Unwinds, Connor, Risa and Lev. It covers their extreme efforts to save themselves from being caught by the authorities. Now bound together in a fragile alliance, the trio attempt to survive on their own.
The book has been an incredible and controversial topic that still remains relevant today. It talks a lot about the ideas of inequality and morality, how dominance is always moved over time. Multiple times the situation that is presented can be at times taken advantage of by either the protagonist or antagonist. 
The book is meant for older teenagers interested in dystopias within the range of 14 to 16 years old, containing depictions of violence, swearing, suggestive content and a very dark tone that shrouds the reader and the world their following. From a scale of 1 to 5, it is a solid 4.6. This book is truly unique, and it deserves to have a rating of 5. Its only flaw is that plenty of questions can only be answered in the rest of the books. The book sets itself up as standalone but it does continue on to its sequel "UnWholly" almost perfectly.