"Taylor Swift: The Eras Tour" began playing in theaters on Oct. 12, 2023. Although the original release date was set for Oct.13 in honor of Swift's lucky number, fan demand motivated an early release. This movie was organized in a similar manner to "Taylor Swift: Reputation Stadium Tour" released in 2018. Both are categorized as filmed concerts and recreate the concert experience.
   The tour itself has already made history, quickly breaking Swift's previous records in sales and size; the tour sold the most tickets of all time in one day on Ticketmaster. The theatrical nature of her shows has set Swift apart from other concert experiences, lavish sets, gigantic snakes, a talented group of dancers, and choreography all contribute to the appeal of her shows. The concert movie's opening weekend grossed $100 million dollars and its sales have been compared to that of "Barbenheimer" according to USA Today. 
   One would think that sitting through an almost three-hour movie would be boring, but the constant ebb and flow between "eras" keeps the audience on the edge of their seats. Swift implements impressive transitions and outfit changes with visuals that could keep even non-Swifties interested in the show. 
   Swift takes fans through all of her albums, except her debut "Taylor Swift," choosing fan favorites and traditions from each. "Speak Now" also only included one song, the fan-favorite and most popular: "Enchanted," to the disappointment of a few fans. However, she still implements a complete light and outfit change and delivers an impressive performance.
   Complimenting Swift's performance, fan interaction and community manages to bring the experience all together, creating a concert environment in a movie theater setting. Many fans dressed as certain "eras," traded friendship bracelets, and sported sparkling 13s on their hands like they were going to the live show.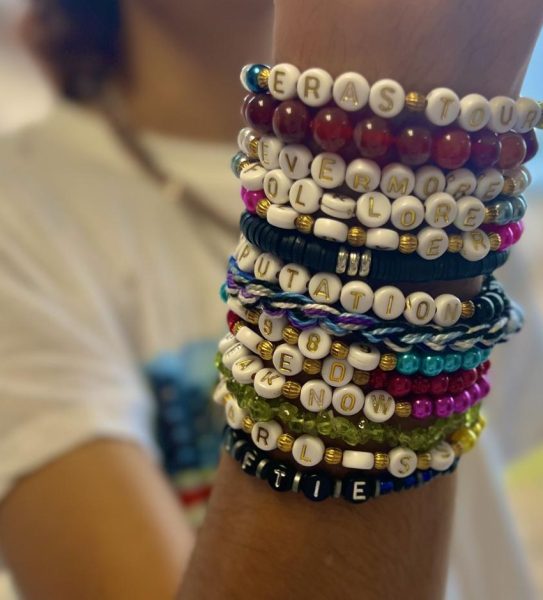 "Taylor Swift: The Eras Tour" is a must-see for any Taylor Swift fan, especially those who could not make it to the actual tour. Swift creates a magical environment with ease and her supporting staff puts on the performance of a lifetime. It will be airing in theaters for at least thirteen weeks.